Putin said that the Russian military "step by step liberate Donbass"
Putin spoke about the course of the special operation and Russia's allies "not bending under the hegemons" source srcset="https://s0.rbk.ru/v6_top_pics/resized/673xH/media/img/0/30/756605681445300.jpg 673w" media="(max-width: 320px) and (-webkit-min- device-pixel-ratio: 2), (max-width: 320px) and (min-resolution: 192dpi)" >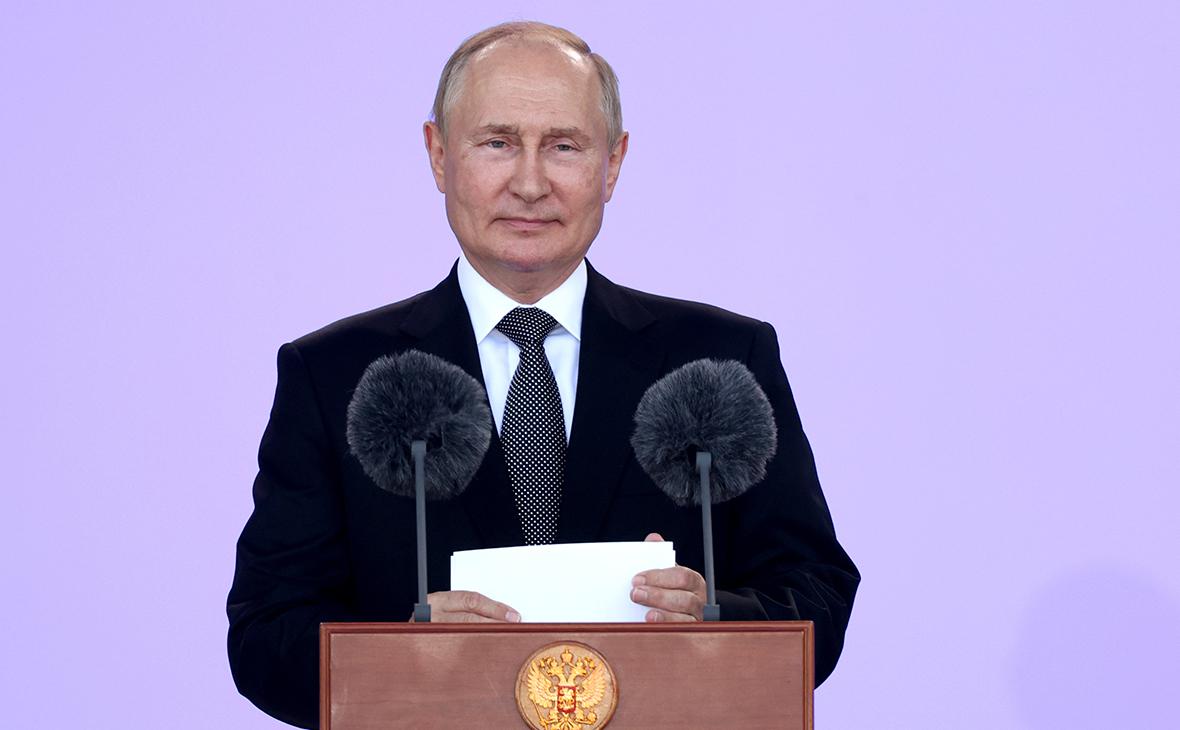 Vladimir Putin
In the course of the special operation in Ukraine, the Russian military "clearly carry out the assigned tasks, step by step liberate the land of Donbass," President Vladimir Putin said at the opening of the Army-2022 forum. RBC broadcast the event.
The President stated that the Russian army and navy "at all times have reliably stood guard over the sovereignty and security of the Motherland." "And today, our soldiers, together with the fighters of Donbass, are honorably fulfilling their duty, fighting for Russia, for peaceful life in the Donetsk and Lugansk People's Republics," — he continued.
The President thanked Russian manufacturers for weapons that "work for victory, for the technological and industrial development of the whole country, all of Russia." According to him, weapons models "are ahead of their foreign counterparts for years, maybe even decades, and in terms of tactical and technical characteristics they are significantly superior."
He also said that Russia is ready to provide samples of weapons— from armored vehicles to aviation and drones— to their allies and partners. According to Putin, the country has many allies on different continents who "do not bend before the so-called hegemon."
«Complete liberation of Donbass»— one of the main goals by which the Russian authorities justified the start of the military operation in Ukraine on February 24. Putin also named among its tasks "demilitarization"; and "denazification" neighboring country and security guarantees for Russia. According to the president, threats came from Kyiv, which concerned, among other things, Ukraine's entry into NATO and the possibility of the country obtaining weapons, the purpose of which, "of course, would be Russia."
Russian Foreign Minister Sergei Lavrov, in turn, said at the end of July that Russia would "help" the Ukrainian people to get rid of the "absolutely anti-national and anti-historical regime." At the same time, he said earlier that Moscow does not intend to seek a change of power in Ukraine. The Minister also pointed to the expansion of "geographical tasks" Russian military in connection with the supply of Western weapons to Ukraine— according to him, now it is "not only the DPR and LPR", but the Kherson, Zaporozhye regions and other territories.
Read on RBC Pro Pro Is it now possible for residents of the Russian Federation to transfer currency abroad Articles Pro The venture market is cooling. Which startups will be the first to suffer?
After the start of the Russian special operation, Ukraine declared martial law, declared mobilization and severed diplomatic relations with Russia.
Tags Persons
Vladimir Putin
Politician, President of Russia
October 7, 1952
p> Subscribe to RuTube RBC Live broadcasts, videos and recordings of programs on our RuTube channel
Источник rbc.ru