Competition of pontoon crossing units "Open Water-2022" is held in Murom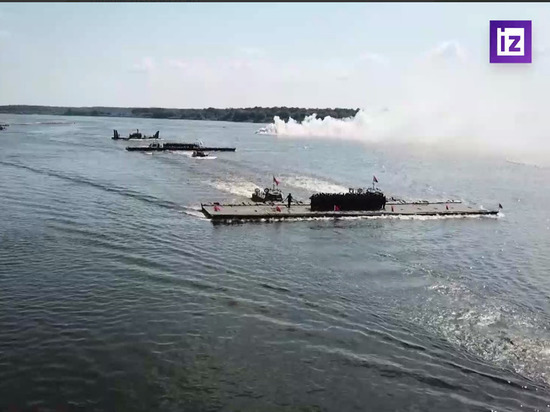 Video screenshot.
In the city of Murom, Vladimir Region, at the Vantovy training ground, a solemn opening ceremony and a water parade of the international competition of pontoon crossing units "Open Water", held as part of the International Army Games 2022 (ArMI-2022), were held. Teams from Russia and Belarus will compete for victory in the final relay.
Army International Games — These are complex international competitions between units of the Armed Forces of different states. Competitions have been held since 2015 and include such competitions as "Tank Biathlon", "Sea Cup", "Master Gunsmith"; and others. In 2021, 34 different competitions were held, of which Russia participated in 16, 95 countries were invited to participate.
During the competition, a modern pontoon-bridge fleet PP-2005M, floating conveyors PTS-2, ferry-bridge vehicles PMM-2M, special inflatable boats SNL-8, BAT-2 track-laying devices, towing motor boats BMK are used. The participants of the competition are equipped with the latest pontoon suits.
Regular platoons of more than 60 people participate in the competition, the Oka River acts as a natural water barrier – near Murom its width reaches 300 meters.
In The complex of the final relay race included seven different tasks (exercises): engineering reconnaissance of a water barrier, arrangement of entrances to a water barrier, landing on floating conveyors, organization of a ferry crossing on ferry-bridge vehicles and on platoon and company ferries from the PP-2005M fleet.< /p>
On Wednesday, August 17, it was reported that the second qualifying races of crews of engineering weapons vehicles took place at the Volzhsky training ground in the Volgograd Region as part of the international stage of the Engineering Formula 2022 competition. The crews of the GMZ-3 caterpillar minelayer, the UR-77 demining unit, and the PTS-2 floating medium transporter took part in the races.
Источник www.mk.ru