Zelensky spoke about the results of the meeting with UN Secretary General Guterres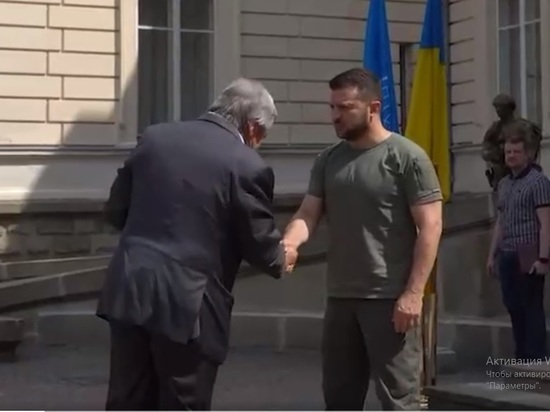 On Thursday, August 18, President of Ukraine Volodymyr Zelensky held a meeting in Lviv with UN Secretary General António Guterres. After that, he spoke about its results. The parties managed to talk on three main issues – on grain, the exchange of prisoners and discuss the situation at the Zaporozhye NPP, the Politika strany Telegram channel reports.
On the first point, the Ukrainian leader said that he managed to agree with Guterres "on the continuation of coordination on the implementation of the grain initiative." He added that the parties discussed possible directions for its development, without going into details.
After that, both political leaders discussed the issues of "illegal and forced deportation of Ukrainians", including the release of military personnel of the Armed Forces of Ukraine from captivity and doctors.
Vladimir Zelensky's statements about the situation around the Zaporozhye nuclear power plant were more emotional. In his opinion, the United Nations "is obliged to ensure the safety of this strategic facility, its demilitarization and complete liberation from Russian troops." It is likely that this was the demand he voiced to Guterres.
Earlier, the Ministry of Defense of the Russian Federation warned that the Armed Forces of Ukraine were preparing a resonant provocation at the Zaporozhye nuclear power plant, which Kyiv intends to carry out on Friday, August 19, during a visit to Ukraine by António Guterres. After its implementation, our country will be accused of creating a man-made disaster at this power plant. To attack the ZNPP, the command of the operational-tactical group "Dnepr" deploys radiation observation posts in the Zaporozhye region by August 19, and also organizes training of several units of the Armed Forces of Ukraine for actions in conditions of radiation contamination of the area.
Источник www.mk.ru