The US Embassy in Moscow replaced the address on the site with the coordinates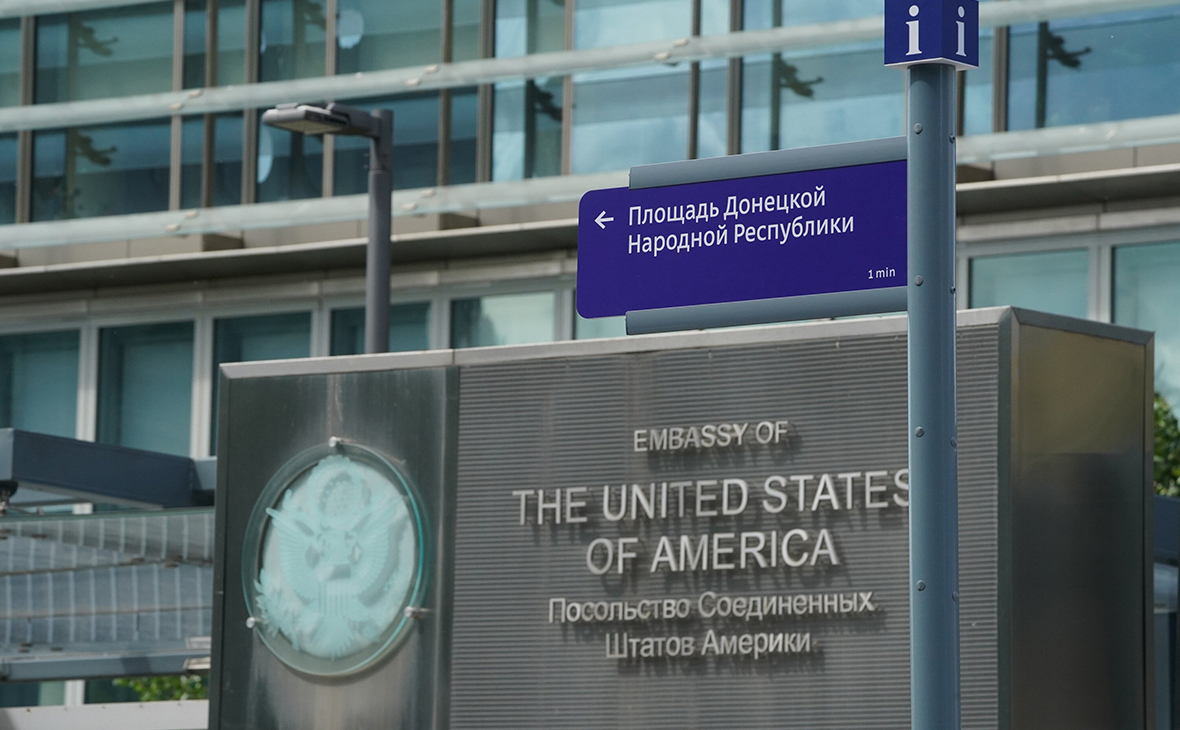 The US Embassy in Moscow removed the exact address of the diplomatic mission from the website. Now at the bottom of the site, instead of the address, only geographical coordinates are indicated: 55.75566° N, 37.58028° E.
However, the embassy's former address— Bolshoi Devyatinsky lane, house 8— it is also listed in the tab of the site, which contains a list of American diplomatic missions in Russia.
Russian Foreign Ministry spokeswoman Maria Zakharova, commenting on the change of address on the website of the diplomatic mission, said that "to change my mind to the opposite— in the culture of modern US foreign policy».
RBC sent a request to the press service of the US Embassy in Moscow.
On June 22, Moscow Mayor Sergei Sobyanin signed a decree on giving the territory near the US Embassy the name "Donetsk People's Republic Square". This name was given to the nameless territory from Bolshoy Devyatinsky Lane to Maly Konyushkovsky Lane along Konyushkovskaya Street.
Read on RBC Pro Pro Starbucks Forever. How to save a business without losing your soul Summary Pro How to become your new leader: four rules and ten taboos Instructions Pro De-dollarization: what will happen to foreign currency and how to save it Pro articles Live to 120: why the co-founder of PayPal takes growth hormone won lawsuits with employees thanks to KEDO: three cases Cases Pro Mercy, Baku: taxes that will have to be paid when moving to AzerbaijanIn mid-May, deputies of the Moscow City Duma from United Russia, Just Russia, the Communist Party of the Russian Federation and the deputy association My Moscow proposed assigning the territory of the diplomatic mission a name associated with the DPR. Initially, it was proposed to call it "the square of the Defenders of Donbass" in order to change the address of the embassy.
On July 1, the Moscow authorities launched a poll asking city residents to choose a place that would be called the square of the Luhansk People's Republic. Muscovites are offered three places to choose from:
the area along Smolenskaya Embankment between Protochny Lane and the exit to Novy Arbat Street (near the British Embassy);
the area along Akademika Pilyugin Street between Leninsky avenue and Vorontsovsky Park (near the German embassy);
the area along Bolshoi Rzhevsky Lane near the junction of Malaya Molchanovka Street (between the embassies of Lithuania and Belgium).
up to date with the latest news even in conditions of blocking
Источник rbc.ru