In Moscow extended the "orange" level of weather danger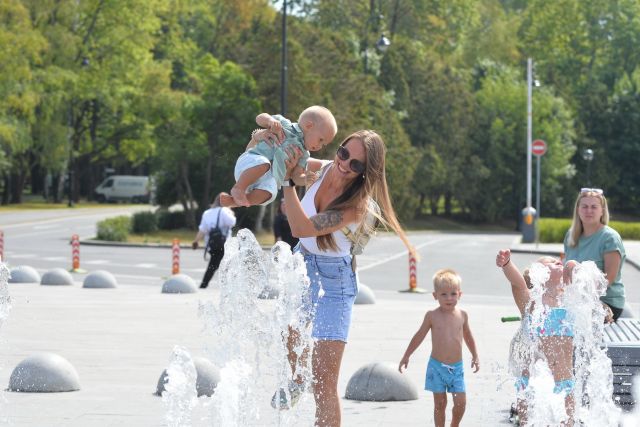 The hydrometeorological center of the Russian Federation extended the "orange" the level of weather danger in the Russian capital until 18:00 on August 18, according to the agency's website.
"In the daytime, in some places, strong heat + 30 … 31" degrees, – the message says.
Head of the Hydrometeorological Center of the Russian Federation Roman Vilfand said that on Friday the air temperature in Moscow will drop slightly. He noted that a slight cooling will not last long.
Earlier it was reported that British supermarkets limited the sale of drinking water due to drought.
Heat in Moscow
© AIF/Eduard Kudryavitsky
© AIF/Eduard Kudryavitsky
© AIF/Eduard Kudryavitsky
© AIF/Eduard Kudryavitsky
© AIF/Eduard Kudryavitsky
© AIF/Eduard Kudryavitsky
© AIF/Eduard Kudryavitsky
© AIF/Eduard Kudryavitsky
© AIF/Eduard Kudryavitsky
© AIF/Eduard Kudryavitsky
© AIF/Eduard Kudryavitsky
© AIF/Eduard Kudryavitsky
© AIF/Eduard Kudryavitsky
© AIF/Eduard Kudryavitsky
© AIF/Eduard Kudryavitsky
© AIF/Eduard Kudryavitsky
© AIF/Eduard Kudryavitsky
© AIF/Eduard Kudryavitsky
© AIF/Eduard Kudryavitsky
© AIF/Eduard Kudryavitsky
© AiF/Eduard Kudryavitsky
Heat in Moscow
© AIF/Eduard Kudryavitsky
© AIF/Eduard Kudryavitsky
© AIF/Eduard Kudryavitsky
© AIF/Eduard Kudryavitsky
© AIF/Eduard Kudryavitsky
© AIF/Eduard Kudryavitsky
© AIF/Eduard Kudryavitsky
© AIF/Eduard Kudryavitsky
© AIF/Eduard Kudryavitsky
© AIF/Eduard Kudryavitsky
© AIF/Eduard Kudryavitsky
© AIF/Eduard Kudryavitsky
© AIF/Eduard Kudryavitsky