"I will walk?" Arman Akopyan needs rehabilitation for 1 million rubles.
Weekly "Argumenty i Fakty" No. 32. Take a check per capita 10/08/2022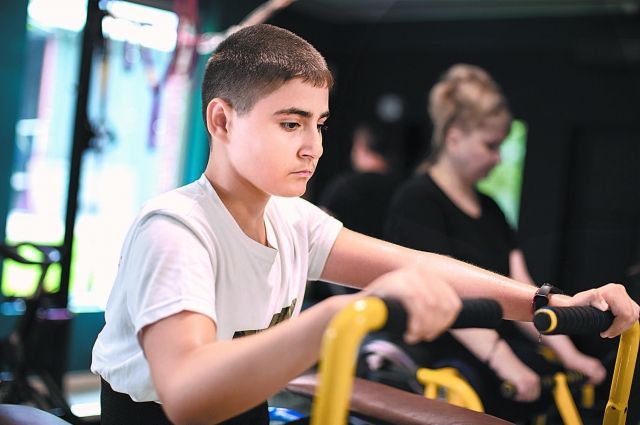 Hard times give birth to real heroes. For us, the heroes – parents, grandparents who stand up for their children to the last. And the children themselves, who believe in themselves, even if doctors do not leave a chance. And of course, you – giving hope, remaining close at a difficult moment.
help
Today, one small hero can become more. His name is Arman. And his name is translated as "dream".
Seven years ago, the tragedy that happened in Krasnodar spread all over the country. "A drug addict stabbed his brother's family because of a share in his parents' house" – local and federal newspapers came out with such headlines. Greta Akhkatyanburied her only daughter Norathat year and almost lost her only grandson Arman. Nora was 28. The experts counted the same number of stab wounds on her body. Norya's husband (they lived together for only three months and did not have time to sign, but for Greta Ashot was just a son-in-law: he took his daughter with a child, cared for, loved) was collected "piece by piece". And five-year-old Arman, who received two stab wounds in the spine, miraculously survived, but stopped walking.
"I accompanied them from Dinskaya to Krasnodar the night before. In parting, Armand hugged my neck and said: "I" love you, grandmother. And an hour later I took the night shift at the bakery. Early in the morning – call: "Is your daughter all right? It was noisy in their house in the morning." Who called? Perhaps the neighbors, – recalls Greta Vladimirovna.
Nora's phone did not answer. Ashot – too. And a little later, she got a call from the police: "Condolences. We hope at least the boy survives.
Arman was taken to the intensive care unit, and after a couple of hours, grandparents, who had not yet recovered from grief, were in the emergency room. "Arman did not say a word, he was dumb with horror, because everything happened before his eyes. I was allowed to see my grandson to understand if the child's mind was clouded, whether he would recognize his grandmother. Armand recognized Greta and burst into tears.
Psychologists worked with the boy for several months so that speech would return, and memories of that day – never. He only remembers his mother's cry: "Run, Arman, run quickly!" But he can no longer run or walk.
When Arman got stronger, he (along with his grandmother, who quit the bakery and was now always there) was discharged from the regional hospital. About the legs, which became like strangers, they said vaguely: maybe it will be possible to walk, or maybe not. "Everything is in God's hands. We received such a medical report, – Greta says.
Since then, they have been in rehabilitation centers in Krasnodar and St. Petersburg, doing a lot with their grandson at home. But Armand still couldn't walk. Due to the lack of movement (especially during the period of active growth), spasticity in his muscles increased, subluxations of the hip joints appeared, one leg became 5 cm shorter than the other.
Arman never went to school. He has been studying at home since the first grade, but he is an excellent student. Armand also loves to read. Especially Chinese history books and the Bible.
help
"Will God help me walk again?" – he asks his grandparents.
They never deceived Arman: maybe yes, or maybe – no. But while they are alive, their only grandson should get a profession and become ­independent.
Armand is trying. With little or no assistance, he moves from bed to wheelchair. In the kitchen, he helps his grandmother with washing dishes, and while she is rubbing the floor, he is working with a vacuum cleaner in the next room. He does everything silently, without any extra requests. Sitting in a wheelchair, he works with his grandfather in the garden: he chops the grass. She will also feed the rabbits and help pump honey. He succeeds in whatever he takes on. Recently he said to his grandmother: "You are getting old. I must stand up to help you. And he's closer than ever to his goal.
The fact is that Arman recently underwent surgery on the hip joints. Petersburg surgeons have eliminated the subluxations, and now the teenager needs verticalization and movement, otherwise the result of the operation will be nullified. But in order for Arman to start moving at least on a walker, he needs professional rehabilitation at the Neurofit center.
"Our friends recently took their daughter to this center. When we returned, Arman and I went to visit them. Masha stood up right in front of his eyes and took a few steps in her walker. Armand came to life: "Grandma, Masha walks! So, will I? Will God help?»
God helps with the hands of ordinary people. Ours with you. And only we know the answer to Arman's question.
Need help
In order for Arman Hakobyan (12 years old, village Dinskaya) to move on a walker, rehabilitation is needed for 1 million rubles.
Opinion expert

Head of the rehabilitation center "Neurofit" Konstantin Kachesov:
– Arman has a stab wound in the spinal cord. Such injuries have a more favorable outcome compared to injuries due to traffic accidents and diving. For 2 months of rehabilitation, we plan to put the boy on a special walker and teach him to walk with their help according to a special program, and then he will master a regular walker. Arman will be able to move upright and become more independent.
Help our heroes like this:
Send 8910 SMS with the donation amount in numbers, for example "150".< /p>
For regular donations: "month [space] amount" (for example: month 150).
Please don't forget to confirm the payment by reverse SMS!
Service for subscribers of MTS, Beeline, Megafon, Tele2.
By card — in the "How to help" section at dobroe.aif.ru.
For regular donations — check "Help monthly".
Bank details: BF "AiF. Good heart TIN 7701619391, KPP 774301001. Beneficiary's bank: PJSC Sberbank of Russia Moscow, BIK 044525225, p/s 40703810838090000738, p/s 30101810400000000225.
By making a donation, you consent to receive information messages.
Our phone
strong> 8 (916) 941-41-12
Thank you!
AIF. Good Heart" helps children and adults with severe and rare diseases. We provide medical, legal and psychological support to wards from the most remote regions. By supporting the foundation, you help not only them, but also their families!
help Rate the material
Источник aif.ru